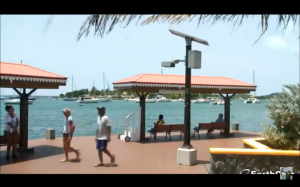 Webcam streaming, 100 years later
View from St. Croix
This is a live stream webcam showing the view from the harbour of Saint Croix (formerly Danish West Indies). Around this spot Danish ships disembarked African slaves back in the 17th and 18th century.
In 1780 white sugar comprised two thirds of Copenhagen's total exports.
In 1917 Denmark sold the islands to the USA.
This installation commemorates the history of Denmark as a proud and rich slave nation, and celebrates the 100th anniversary of Transfer Day.
Thanks to Henrik Holm, SMK, Kunststyrelsen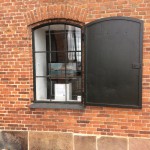 Kunstner Thomas Seest markerer 100-året for salget af De Vestindiske øer i et usædvanligt kunstværk.
Hvis du spadserer forbi Vestindisk Pakhus ved Københavns Havn kan du fra 31. marts 2017 opleve et usædvanligt glughul direkte til den travle havnekaj på St. Croix. Videokunstner Thomas Seest streamer fra et turistbureau´s webcam i Christianssted på St. Croix.
St. Croix er en af hovedøerne i de Amerikanske Jomfruøer (tidligere kendt som De Vestindiske Øer), som i 250 år var en dansk koloni.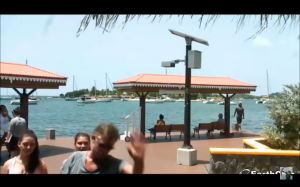 Fra slaveskibe til turistbåde
Thomas Seest fortæller om sit værk:
Slaveskibene lå til derude, hvor man nu kan se yachts og tourbåde ligge til. Især danske og amerikanske turister er hyppige gæster idag. Jeg er interesseret i hvordan rejseselskaberne omtaler historien i brochurerne, og hvordan øerne bliver repræsenteret med billeder og webcam. Danskerne er stadig til stede.
Thomas Seest streamer direkte fra havnen i Christiansted på St. Croix på en skærm, der peger fra Vestindisk Pakhus ud mod havnekajen i København. På den måde forbinder han atter de to kajpladser.
I videoværket kan man se, hvordan der i dag lastes turister i sightseeing tourbåde, på stedet hvor de slavegjorte før blev lastet og losset.
---